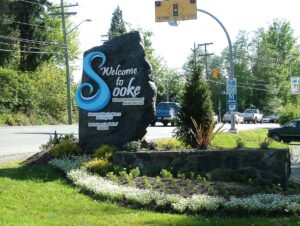 What is it about Sooke that makes it an outstanding location for investors, residents and visitors and distinguishes it from others?
Quite simply, we enjoy and appreciate the Quality of Life and the Opportunities it provides to grow as a business, a family or an individual. On Vancouver Island, near Victoria, the capital of British Columbia, Sooke is cradled by pristine evergreen hills and the Pacific Ocean. Excellent land and property values, a competent labour force and supreme tourism opportunities are all available.
Whether you are considering relocating, expanding or starting a new business venture, Sooke is ripe for economic development. The business and investment opportunities are endless – from Tourism, Marine, Forestry, Industrial, Retail and Hi-Tech, Sooke is the place to start, expand and grow almost any business venture. An investment in Sooke is an investment in your future.
Business & Investment Opportunities
Economic Development and Growth Potential
Healthy Living and Quality of Life
Pro-Active Local Government
Large Pre-Zoned Commercial & Industrial Land Base
Downtown Revitalization
Waterfront Development Opportunities
Sooke is facing a very bright economic future with forecasts of unprecedented growth. The pleasant mixture of rural and urban, affordable housing and a pristine west coast location, offer a recipe and the ingredients for a successful venture. We love living here and invite you to consider becoming a vital part of our friendly community.