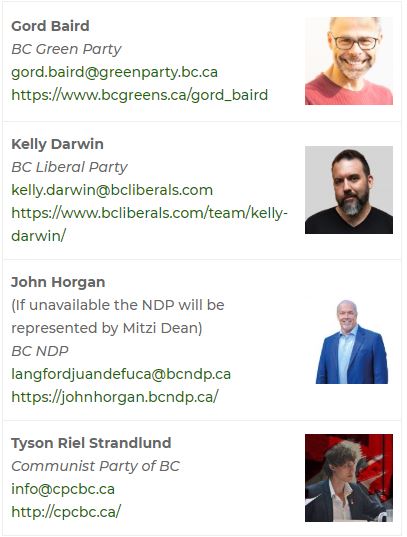 The candidates in this month's Langford-Juan de Fuca provincial election gathered for a unique, online non-confrontational forum via ZOOM on Thursday, Oct. 15th at 7:00PM.  The evening was co-hosted by the Sooke Region Chamber of Commerce, the WestShore Chamber of Commerce and the Sooke Multi-Belief Initiative, and moderated by Her Worship Sooke Mayor Maja Tait.
The candidates were asked to address the following issues:
Resolving Addictions, Mental Health and Homelessness
Business Support and Economic Growth during and post COVID-19 Pandemic
Affordable Housing for Youth, Families and Seniors
Challenges of Transportation with Urban Growth and Liveability
Climate Change Action Plans to 2030
Meaningful Alliance with Indigenous Peoples
Watch the full video below.
Technical support for this event is being provided by bWEST Interactive, a "results based" digital marketing firm that develops digital solutions for business owners and marketing professionals who want real results for their business; from website traffic, to qualified leads and more customers.
Additional Election Information
October 15 – 21: Advanced Voting (see the list below for locations)
October 17: Deadline to request to vote by mail (see below)
October 24: Election Day (see the list below for locations)
Where to Vote
Advanced Voting: October 15 – 21, 8am – 8pm
SEAPARC (2168 Phillips Rd)
Sooke Community Hall (2037 Shields Rd, upstairs)
Election Day: October 24, 8am – 8pm (please see your election card for your specific voting location).
CRD Building Otter Point 3-7450 Butler Rd Sooke, BC
East Sooke Community Hall 1397 Copper Mine Rd Sooke, BC
Edward Milne Community School 6218 Sooke Rd Sooke, BC
Port Renfrew Community Centre 6637 Deering Rd Port Renfrew, BC
Shirley Community Hall 2795B Sheringham Point Rd Sooke, BC
Sooke Community Hall (Upstairs) 2037 Shields Rd Sooke, BC
You can download the Where to Vote app.
Not yet registered? While the online and phone registration is now closed, you can still register to vote on location. 
See this page for details
.
What to bring
Valid ID that shows your name and home address.
Your Where to Vote card. Look for it in the mail from Elections BC before advance voting starts. Bringing it with you to the voting place will make voting faster and easier.
Your own pen or pencil to mark your ballot, if you wish.
A mask to wear in the voting place, if you wish. We encourage voters to wear a mask when they vote to protect others. You will not be asked to remove your mask to vote.