Were you nominated?
Buy your TICKETS here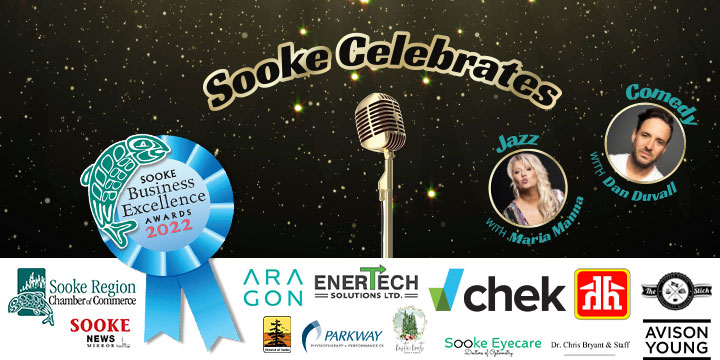 Sooke, BC: When it comes to celebrating business excellence in Sooke, the Sooke Region Chamber of Commerce is changing gears. Instead of their longstanding traditional sit-down buffet, the Chamber is switching to an evening of song, celebration, and smiles with their Sooke Celebrates show on the evening of Saturday, November 19, 2022.
"When we were considering this year's event, affordability became a key consideration," said Mike Menard, President of the Sooke Region Chamber of Commerce. "With inflation, the traditional buffet awards night would have cost each attendee well over $100 per plate. This new format includes entertainment, awards, and lots of laughter, with tickets under $50 for the general public, and less than $40 for Chamber members!"
This year's Business Excellence Awards (BEA) event will open with melodious Jazz songstress Maria Manna, followed by the awards presentation, and closes with the clever capers of stand-up comedian Dan Duvall. There will be complementary hors d'ouerves and a cash bar.
"For the local businesses that have been nominated, whatever their rank in the awards selection, all will leave with a song in their heart and a smile on their face," assured Menard. "And all will be exposed to at least 30 amazing businesses serving the Sooke community."
The event takes place at the theatre of the Edward Milne Community School (EMCS), on Saturday, November 19th. Doors open at 5:30pm for complementary hors d'ouerves and business networking; the show will start at 6:30pm. There will be a cash bar before the show and during intermission.
Sooke Celebrates is generously supported by sponsors. The event's main sponsor, CHEK Media, will present the coveted Business of the Year award. EnerTech Solutions presents New Business of the Year, and Home Hardware (Sooke) presents the People's Choice award. Trades and Skilled Labour will be given by The Stick in the Mud Café, and Aragon will hand out the Business Services award. Dining and Hospitality, Non-Profit and Volunteer, Manufacturing and Industry, Professional Services, Retail Serves, and Personal Services awards will be given by Sooke Eyecare, the District of Sooke, Rustic Roots Haircare, Dr. Chris Bryant and Team, Avison Young, and Parkway Physiotherapy respectively. And, over 20 businesses have donated to The Big Basket, which will be drawn for at the close of the event.
Two awards will also go to audience members, including a $200 Shop Sooke gift certificate to a randomly selected voter and The Big Basket filled with Sooke-supplied gifts and goodies. Tickets to The Big Basket draw will be sold at the event, $2 per ticket or 3 for $5. Bring cash!
"Like the Oscars," assures Menard, "except no punches thrown."
Tickets are available online through EventBrite at tinyurl.com/BEASooke2022 or at the Chamber's website at SookeRegionChamber.com (or scan the QR Code on the poster). Those wanting to avoid EventBrite fees can drop in at the office at 1A-6631 Sooke Rd and pay by cheque or cash during regular business hours (8am to 2pm, M-F). If any tickets remain available, they will be sold at the door, cash payment only please.
Media Assets
---